A Popular Ghanaian guy called Twene Jonas also known as 'Glasa Nkoa' and social media sensation, has become a household name and criticizing the government for their wrong policies and corruptions.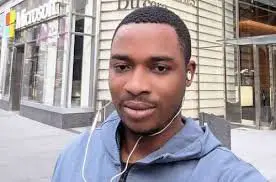 The young Ghanaian internet sensation, Twene Jonas, who is based in the USA and noted for telking his mind to the leaders in Ghana for their poor management in the country.
This had made him popular and now having thousand plus followers who support him now.
Twene Jonas not long ago, bashing some Ghanaian chiefs after he reacted to the ongoing Galamsey that are destroying our water bodies.
"Even the Asantehene said if you are a chief and give people land to illegally mine in return of goat then it's over to you," he said and added that " Ghana everyone is a thief, they don't speak the truth, including the Asantehene".
Jonas' comments on social media subjecting him to insults turned to curses.Some of his words and comments have brought a divide among the Ghanaians.
Several videos came out of people cursing Twene Jonas for his comments and insult. However, he reacted that he doesn't believe in superstition so the curses won't work on him
Not long ago, Twene Jonas during a live video recently revealed that he was not well and was under the weather. He gave his followers the normal show and made them laugh as he continued with his normal trend of descending on Ghanaian leaders.
Twene Jonas again revealed that no one should even think that the so-called idols that were used to curse him are working now.
He concluded that his sickness was a normal change in his system which will be flushed out in lesser than 24 hours.
Twene also stated that since he is in Heaven (New York city as he refers to), he don't problem and absolutely no worries to think of what he is going through and he will be fine very soon.
Thanks for reading
Kindly leave your comment after reading please.