It was very sad to hear that the founder of International God's Way Church (IGWC),Bishop Daniel Obinim, mourns his father for one week observation. As it was seen, the mourning was solely meant to pay homage to his father, Mr. Bonsu as he depart to join the silence world.
The solemn ceremony took place at Abuakwa Sepase in the Ashanti Region of Ghana. Most of his members in his church and well wishers as well as friends has travelled far and near to also help the Bishop mourn his father for the one week observation.
Clad in black mourning attire, a photo from the ceremony shows that Bishop Obinim in a sobber and a solemn mood at the funeral grounds.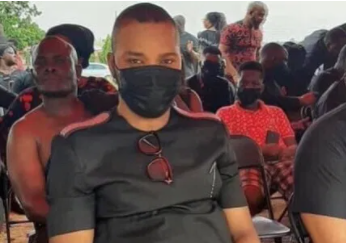 A lot of mourners including Bishop Isaac Appiah Ogya Nyame and Benjamin Agyemang (Igweee),were in attendance to sympathise with the man of God and his family.
However, the wife of Obinim, Florence Obinim was also present to lift the spirits of mourners with musical interlude.