7 Biggest Regrets people have before dying
GIFTEDCHRIS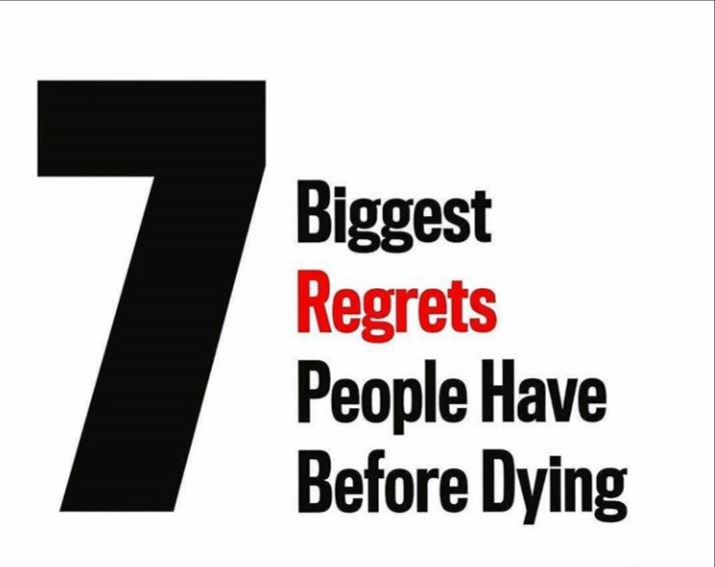 There is a saying that goes by "Had I known is Always at Last " . Many people always live to regrets in life the things they could have done before their departure, but it's always too later..
Below are the 7 Biggest Regrets we will be learning to prevent ourselves from falling into this same trap…
1. I wish I left my unfulfilling Job and Pursued my dreams.
Many people are doing jobs they are not happy with , instead them pursuing their own Businesses or dreams they end up spending the rest of their lives working for their Masters, living from Payroll to payroll, while their dreams are left unfulfilled…
2. I wish I spent more time with my family…
Family comes first in everything we do in life, without family we feel incomplete…
Many parents or Adults don't even have time for their family , all they do is having time for their Job and Bosses, they leave home early and comes back later, No time for their Children, and parents..
3. I wish I'd had the courage to Express my feelings..
We must Express our sincere feelings to our loved ones, family, friends, and our life partners…
4. I wish I kept in touch with old friends..
As the saying goes "friend indeed is a friend in need ". We must always keep in touch with our friends whether old or new friends..
5. I wish I took more vacation time and Travelled the world..
Adventures are memorable and interesting places to explore, at least twice a year is okay..
6. I wish I'd had the courage to live a true life to myself, and not the life others expected of me.
At times we live our lives to please, impress, and satisfy others instead of ourselves…
7. I wish I made my personal happiness a priority.
Thanks so much for Clicking on this article, hope you will find this article a good one…
God bless you abundantly and be with you all..
Please like, share, comment and Subscribe for more articles
#inspirational, #Life