Information trickling from Techiman to this portal is unpleasant to the ears as some youths of today have it mind to sort short-cut means to gain what they want in life.
Late evening yesterday at 23:15GT a sprinter driver carries 13 passengers from Techiman, on their way to Kumasi, a taxi driver stopped them and alerted them if possible to get back to Techiman. According to him, there were armed robbers on the way he escaped from.
According to an eyewitnesses Dauda Ibrahim, they called the police highway patrol team from Techiman for an escort, the team arrived and the journey sets off.
Moment they backed pass Tanoso close to Offinso 5 people wearing masks alleged to be armed robbers. Two of them stood in the middle of the road stopping the car, while they gave a warning shot. The driver intended to have hit them, but the robbers immobilized the car by shooting at the front tyres and when they spotted he wasn't stopping they shot him but he swerved and dodged the bullets. Unfortunately the two passengers at the front seat couldn't dodge the bullets. One is in a critical condition to the extent that his intestines came out. He was rushed to Offinso Hospital but was later transferred to Okomfo Anokye Teaching Hospital where he is receiving treatment. The other passenger sustained injuries on the leg, he is at Offinso Hospital responding to treatment.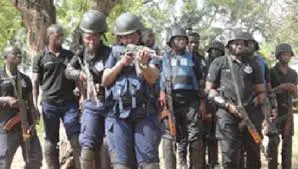 The Police Petrol team did a marvelous job by responding and exchanged fire with the robbers. Two robbers died in the process, while 3 are said to be on the run and are being sought by the police.
I hope you enjoyed reading this piece? Thanks for your time. Please don't forget to like and share to your colleagues.