Most expensive celebrity homes in the world
1. Bill Gates– $125 million
Although he' s not technically a celebrity in the sense that he doesn' t act or sing, Bill Gates is famous enough to be included (and TOP) this list. It' s really impossible to describe Bill' s Medina, WA state- of- the- art lakefront estate, Xanadu 2. 0, so here are a few of the highlights. The 7- bedroom, 24- bathroom house spans over 66, 000 sq. ft. and includes 6 kitchens, a 2, 100 sq. ft. library with domed roof, an exercise room with a sauna, separate men' s and women' s locker rooms, a steam room, and a trampoline room, an indoor/ outdoor pool with underwater music system, a man- made stream stocked with trout and salmon, and a theater.
There are plenty of over- the- top technological features, including rotating artwork and pressure sensitive floors that ensures security knows where everyone is at all times. Of course, your location shouldn' t be too much of a problem as all guests are issued a microchip in a pin that tracks their location, while also allowing them to change the temperature and lighting to their own preference.
By the way, the estate ends at a beach on Lake Washington. The beach consists of sand that was brought over by a barge from Saint Lucia.
2. George Clooney– $100 million
Although there have been rumors over the years that George Clooney plans to sell Villa Oleandra, his estate in Laglio, Italy, that doesn' t seem to be the case, based on a recent interview he did with The Hollywood Reporter. Constructed during the 18th century on the banks of Lake Como, the home is, today, the perfect mix of its original charm and all the modern amenities one would expect in a house with this price tag. For example, it has ornately carved ceilings and tile floors, but has been renovated to include a full gym, huge spa- like bathrooms, and a " pizza room. " The grounds are spectacular and include landscaped gardens, a pool, tennis courts, a garage for his motorcycles, and an outdoor theater.
3. George Lucas– estimated at $100 million
The famed director purchased the 4, 700 acre Skywalker Ranch in 1974 and is believed to have spent around $100 million renovating and updating it over the years. Today, specific information about the Marin County, CA property is secretive. Visitors must be invited and pictures are not allowed. (In fact, it' s rumored that Ronald Reagan asked to see the property during his presidency, but the request was turned down. ) What is known is that the property includes several buildings, a 300- seat theater, separate 2- story library, outdoor pool, underground parking for 200, a thriving garden, and vineyards. In addition, it is said to have its own fire station.
4. Oprah Winfrey– $88 million
Often referred to as " The Promised Land, " Oprah' s Monecito, CA 42 acre estate is nothing short of magnificent. The 6- bedroom, 14 bathroom Neo- Georgian style main house includes a gourmet kitchen, wine cellar, theater (with a second one outside), and multiple (covered and uncovered) terraces that make it easy to enjoy the gorgeous grounds. Outside, there are equestrian facilities, including riding rings, paddocks, covered stalls, a horse trainer' s house, and a state- of- the- art stable and barn, as well as pool, two outdoor fireplaces, a man- made stocked lake for fishing, multiple ponds, a 2 acre avocado grove, a koi pond, rose gardens, entertainment area, and a guest house with separate pool. When the main house gets to be too much, Oprah can head out to the teahouse, where she often goes to relax.
5. Jay Z and Beyonce– $88 million
With an original asking price of $135 million, Jay Z and Beyonce got this 2 acre Bel Air compound for a deal. The property is comprised of 6 separate structures, including the 30, 000 sq. ft. main house (8 bedrooms and 11 bathrooms), a gaming/ entertainment building, and a 15- car garage, as well as 4 pools and a basketball court. The Smart House boasts a helipad, bullet proof windows, in- house spa and fitness center, a custom staircase made from exotic wood and featuring stone steps lined with brown leather, 40 ft. ceilings in the main living space, and sliding glass walls that can completely recede to open the interior up to the huge patio and lawn.
6. Tom Cruise– $59 million
Spanning 298 acres just outside of Telluride, CO, Tom Cruise' s 10, 000 sq. ft. house includes floor- to- ceiling windows in the living room, allowing for panoramic views of the mountains. Cedar timbers flank the walls and ceilings, while native stone was used to create a magnificent fireplace. Inside the home, you' ll find a home gym, rec room, and library. Outside, there is a private trail system, a lighted court for basketball, tennis, and hockey, a private motocross track, and a quaint 1, 600 sq. ft. guesthouse with 3 bedrooms and 3 bathrooms.
7. Tiger Woods– $54. 5 million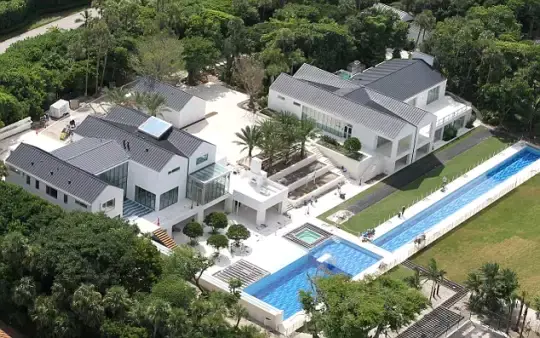 Custom built to Tiger' s (and former wife, Elin' s) specifications on elusive Jupiter Island, this gorgeous 10, 000 sq. ft. home backs up to the ocean. Outside, there are four putting greens with bunkers of different depths, a putting studio, a running track, a basketball/ tennis court, a 60- ft. diving pool, 100- ft. lap pool, boathouse, and spa. Inside, the 4- bedroom home, which includes a glass- fronted elevator for anyone who wants to take in the incredible sea views as they bypass the stairs, is a wine cellar, theater, and game room. In 2013, there were reports that the house was starting to sink as a result of Florida' s soft soil (Apparently, not an uncommon problem in the Sunshine State. ), although there isn' t really any follow- up information available.
8. Howard Stern– $52 million
Purchased in 2013, Howard' s Palm Beach 18, 673 sq. ft. mansion sits on 3. 25 acres that backs up to the Atlantic Ocean. Since he bought the 12- bedroom home, he has done countless renovations, which included the addition of a 1, 000 sq. ft. closet for his wife. Property details are very limited, though we do know the property boasts an oceanfront pool.
9. Cindy Crawford– $50 million
Originally on the market for $60 million, Cindy Crawford' s beachfront Malibu compound can now be purchased for $50 million. Situated on 3 acres of land overlooking the Pacific Ocean, the 4- bedroom, 5 ½- bathroom Hacienda- style villa was built in 1944, though Cindy and her husband, Rande Gerber, recently renovated the entire thing. The home features walls of sliding glass doors and a wraparound deck with a fire pit and pool that brings the outdoors in. Also the with the 5, 500 sq. ft. home and pool on the park- like property is a tennis court and a private path to the beach below.
10. Sting– $50 million
Sting' s NYC penthouse in the renowned 15 Central Park West building manages to outdo Demi' s, despite being smaller with just 5, 417 sq. ft. What it does have is 43 feet of Central Park frontage, which can be enjoyed out on the terrace or through the floor- to- ceiling windows that seem to be in every room, as well as a unique open fireplace in the living room, double sculptural spiral staircases, dual spa bathrooms and a sauna in the master bedroom, and top- of- the- line appliances. The building boasts a sky- lit lap pool, fitness center, steam room, screening room, and private restaurant. Despite all of this, Sting sold the property to a mystery buyer less than 2 months ago.
Please don't forget to follow my channel for more.