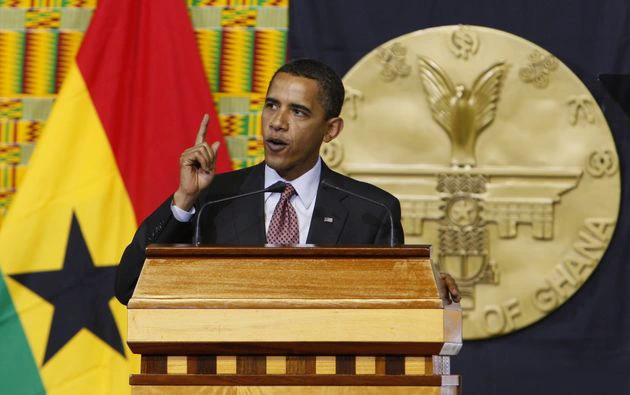 "Africa doesn't need strong men; it needs strong institutions" is a remark from the former President of the United States of America, Barack Hussein Obama, while addressing the Ghanaian Parliament during a courtesy visit to Ghana in 2009.
This statement, is what Legal practitioner and Journalist, Samson Lardy Anyenini says is wrong.
Mr. Anyenini says Africa needs strong men to get the strong institutions, unlike the famous quote the former most powerful man in the world made.
In his remarks to the continent in Ghana's Parliament, President Obama remarked as follows:
"No country is going to create wealth if its leaders exploit the economy to enrich themselves, or police can be bought off by drug traffickers. No business wants to invest in a place where the government skims 20 per cent off the top, or the head of the Port Authority is corrupt. No person wants to live in a society where the rule of law gives way to the rule of brutality and bribery. That is not democracy, that is tyranny, and now is the time for it to end. Africa doesn't need strong men; it needs strong institutions."
But discussing some fallouts from the ongoing vetting, election petition hearing and politics on Metro TV's Good Evening Ghana Thursday, Mr. Anyenini indicated strong men like the Auditor General, Daniel Yao Domelevo, are the ones Africa and Ghana as a matter of fact needs to ensure its institutions would be put to work. But he has unfortunately faced "constructive dismissal".
He was speaking on National Security Minister-designate, Kan Dapaah's response on the disallowance and surcharge powers vested in the Auditor General instead of Parliament when he faced the Appointments Committee of the House.
"He [Daniel Domelevo] is the kind of Auditor General we need. He doesn't have to worship the President before you like him. But what happened to him? He said go to leave for how many days? And that's what you'll call constructive dismissal," he told host, Paul Adom-Otchere, and was keenly monitored by Ghanas Online.
It is based on this that he said "Obama was wrong when he said we need strong institutions and not strong men. Well, in Africa, we need strong men to get the strong institutions."
He noted a usual Auditor General would have been dancing to the tune of government unlike Domelevo who was truly exhibiting traits of a strong man to get strong institutions to work.
"We know your typical Auditor General will not dare take on people at the presidency. They won't dare touch people that they know there would be intervention from the highest quarters. Look at his attitude to corruption fight. You'll need a lot more of strong men," the host of Newsfile on JoyNews added.
He noted the rate at which corruption is perpetrated in the country is abhorring, and strong men like Domelevo should be given the space to build the strong institutions to curb the increasing thievery.
"How does it happen that a poor country like Ghana, $3billion is not accounted for yearly per the World Bank report," he quizzed