– A requiem mass is being held in honour of the late former president Jerry John Rawlings
– The ceremony is currently underway at the Holy Spirit Cathedral in Accra
– Photos of his widow and former First Lady Nana Konadu Agyemang Rawling and her children at the mass have emerged
A requiem mass is currently underway for the late former president Jerry John Rawlings at the Holy Spirit Cathedral in Accra.
The ceremony is part of a four-day state funeral for the late president, which begins today, Sunday, January 24, 2021.
Emotional photos emerging from the requiem mass show the widow and former First Lady Nana Konadu Agyeman Rawlings and children of the late Jerry Rawlings in somber and reflective moods.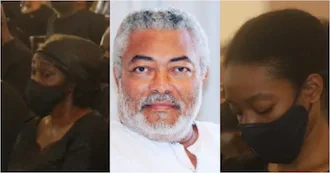 Member of Parliament for Klotter-Korle Constituency Dr Zanetor Rawlings, Kimathi Rawlings, and Yaa Asantewaa Rawlings sat quietly next to their grieving mother.
Several other dignitaries, including Vice-president Dr Mahamudu Bawumia and his wife, Second Lady Samira Bawumia, former president John Dramani Mahama, the Speaker of Parliament, Alban Kingsford Sumana Bagbin, and some leaders of the National Democratic Congress (NDC) are in attendance.
The requiem mass will be followed by a vigil at the Air Force Officers Mess in Accra.
The late former president died on Thursday, November 12, 2020.
In other news, founder and leader of the International God's Way Church, Bishop Daniel Obinim passed commentary that Christians should make money and entertain themselves because the second coming of Jesus Christ is delaying.
The controversial man of God advises believers to make money and "chill", stressing that it has taken too long for Jesus Christ to return.
"Make money, buy cars and build houses because, from the way things are going, you may die before Jesus Christ returns. We believe in the second coming of Jesus Christ, but He's delaying and we may turn seventy and eighty-years when his coming would still not be in sight," he asserted.