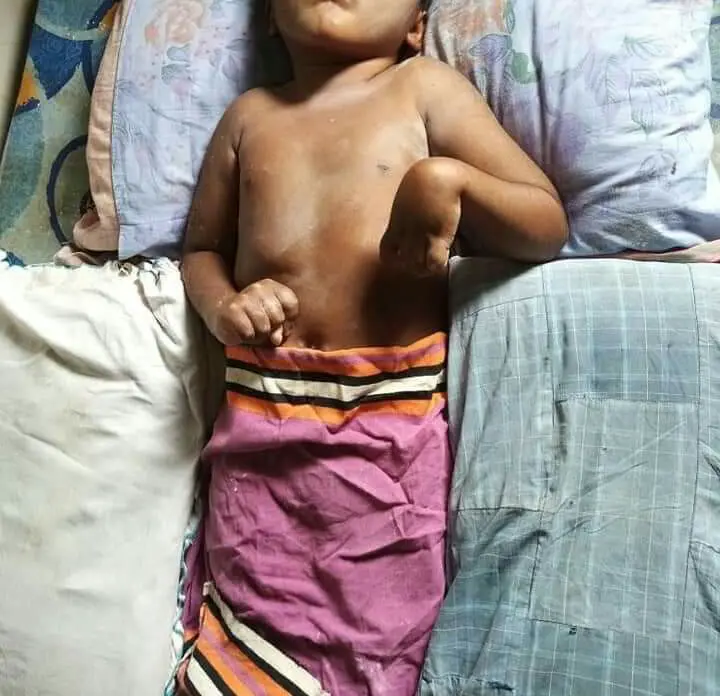 Money makes life very comfortable for many people, whiles poverty makes life worthless for others. If she had enough money, she wouldn't have done that said the Landlord, Mr. Bempong. Asantewaa Elizabeth is on the run after trying to poisoning her own child at Benimase in the Ashanti Region of Ghana. Asantewaa who was a Chop Bar Assistant at Benimase, tried to poisoned her child because she felt life was becoming unbearable for her said Mr. Bempong. Mr. Bempong is a retired School Teacher who retired in September. He used part of his Social Security trust fund to build a five bedroom commercial apartment, and the rest for a two bedroom house which he lives with his wife and children. Mr. Bempong was once on a visit to Barimahkrom in the same region, and that was where he met Asantewaa.
Asantewaa who was pregnant at the time was struggling to give birth. There is no hospital in Barimahkrom and Asantewaa was been assisted by elderly women to give birth. Mr. Bempong took Asantewaa and brought her to First Class hospital in Benimase for medical treatment. Mr. Bempong took in Asnatewaa and helped her to acquire a job at Beniamse after her delivery. It was alleged that, Asantewaa stole GH¢2,800 from her madam in November 2020. Asantewaa's madam, Obaa Beatrice as commonly referred to as, reported the issue to Benimase Police officers and Asantewaa was arrested.
According to Mr. Bempong, Asantewaa's madam gave her GH¢700 cedis to deposit into her "Susu savings account" every week. Asantewaa deposited some of the money and kept the rest from 19 February 2019 to 25 August 2020. Asantewaa will rather use a red pen and change the figures in the susu book. So Obaa Beatrice never saw the wrong doings until 18 December 2020, when she went to the savings and loans for her "susu" savings. Susu is a term used by savings and loans companies to help low income businesses save funds for future use.
Mr. Bempong after the arrest of Asantewaa promised to pay back the money and Asantewaa was released. Asantewaa according to her account of the issue to Mr. Bempong, used all the money to buy drugs for her child. Asantewaa's child is a sickle cell patient who suffers from depression of growth. This has lead to parts of his cells and neurons growing as a normal child. Asnatewaa has been buying drugs from various pharmacists to help her child recover despite doctor's warnings. The child needs medical surgery not drug said Mr. Bempong.
Asantewaa felt humiliated by the news of her involvement in her madam's susu savings and decided to end it all yesterday.
She locked herself into her room and decided to poison herself and the child. Neighbours of Asantewaa who are also tenants in Mr. Bempong's rented house, heard some struggles. Lydia who called for help, said she saw Asantewaa forcing herself onto the child with a bottle. The bottle which contained an unidentified poisonous substance was taken from Asantewaa when neighbours broke into her room yesterday afternoon. She was restrained before Mr. Bempong was called to the scene. Before Mr. Bempong who has been giving Asantewaa a rent free room, was able to ask her what happened, she dashed out into the window and has since not been seen.
Mr. Bempong believes she will come back but doesn't know when that will be. She feels she has failed in taking care of her child and wanted to end it and die in piece. Asantewaa's child is still with Mr. Bempong and he is been taking care of by the wife Mrs. Bempong. Mr. Bempong has since refused to make the case a police one because he believes it was a mistake. We will help her go through it if she returns back said Mrs. Bempong. Lydia who helped stopped Asantewaa from poisoning the child said she feels for her struggles, but that was a wrong call she made. She is just like a sister to me and her child is like a son to me. I help keep an eye on him anytime Asantewaa goes to work so he is like my son too. It is good I was home to have stopped her from killing herself and the child said Lydia.