The host of Angel FM's Anopa Bofo morning show Blessed Godsbrain Smart, popularly known as Captain Smart has boldly dropped provisional collated results from all the two hundred and seventy-five (275) constituencies in the country.
According to Captain Smart, the results were collected from all correspondents of the Angel Broadcasting Network (ABN) scattered across the country to cover the 2020 general election.
In an infographics template, Captain Smart indicated that their results cannot be a contrast to what the Electoral Commission will pronounce.
According to him, it will be prudent for the losing political party to humbly accept the outcome of the results to enable peace to reign.
In the provisional collated results delivered by Captain Smart, Nana Addo Dankwa Akufo Addo of the New Patriotic Party (NPP) secured a total of six million, six hundred and sixty thousand, one hundred and fifty-three (6,660,153) of the total votes cast across the 275 constituencies of Ghana.
His main competitor, Mr. John Dramani Mahama who is the flagbearer of the National Democratic Congress (NDC) also made six million, one hundred and twenty-four thousand, eight hundred and thirty-six (6,124,836).
From the figures, Nana Addo Dankwa Akufo Addo has crossed the 50 plus 1 mark to lead the contest with 51.40%, whilst John Dramani Mahama's figure represents 47.26%.
The votes difference between the two stands at five hundred and thirty-five thousand, three hundred, and seventeen (535,317).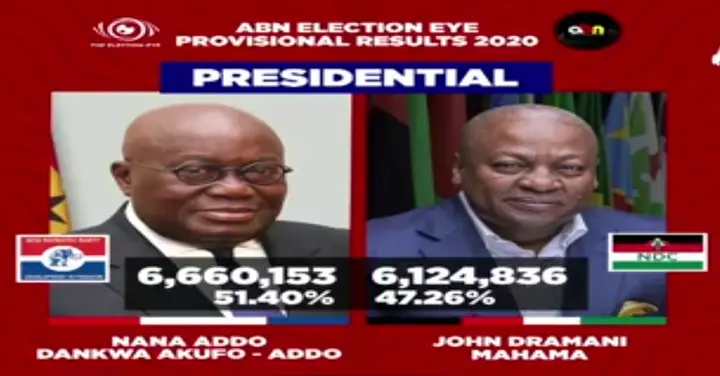 "This is what we have collated so far, it is our projection. We are not in any way declaring the winner of the 2020 election but looking at the figure we have put across, it is up to you at home to decide who has won.
We are still waiting for the commissioner, Mrs. Jane Mensah to declare the certified results". Captain Smart Intimated.
In the meantime, the Electoral Commission of Ghana has in a latest press conference expressed regret for not being able to declare the results of the election in 24 hours as promised.
According to Mrs. Jane Mensah, factors including rain and other uncontrollable difficulties affected the process at some polling stations.
Please like comment and post to everyone for our peace
Thanks for your reading.