Mizpah I always brings great news to my nation so that we will have peace.
The winner of this year's elections is a problem to Ghanaian's because all political parties have performed beyond imagination, but a new poll organized recently shows something different from all other polls organized. In this poll the NPP won 53.4% of the votes cast whiles the NDC won 43.7% of the votes cast with the rest being shared to the other minor parties. This seems to be some level of good news for Ghanaian's because the prayer of every Ghanaian is to see this party win this year's election again.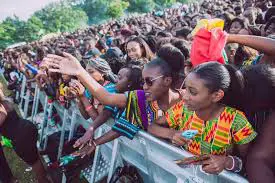 The killer policy of all policis and that is the free SHS has been the main reason why Ghanaian's would be voting for the government. This government has been rated by Ghanaian's as the best and with a 80% rate from Ghanaian's, although there are some negative things about this government which is being exposed by some people, the good deeds of the government are rather being seen by all rather than the bad deeds. Voting would be starting in nine days time and Ghanaian's need to start preparing seriously because the electoral commission is also preparing as well.
No president can provide free Senior High School and also go to the extent and also give free water and free light bill only Nana Danquah Akoffu_Addo the brilliant and compassion man who do not think about his own and his family but think about the nation,this things shock many Ghanaians and the one district one factory and one village one dam.
The great news that made many Ghanaians to vote for Nana Danquah Akoffu_Addo is giving scholarship the boy who get eight A in his examination
Please like comment share and post to all your lovely family
Only God select a king for His county