Mohammed Salah scored his 100th goal of his Liverpool career when he slotted the ball into the goal to help Liverpool in their 2-2 draw against Everton.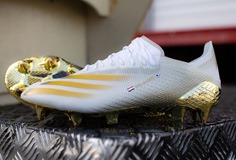 Salah may be one of the players that do not get enough credit for his incredible talent. He is a 2 times African player of the year winner with Liverpool. He is a 2 times top goal scorer in the Premier League, has won the Champions League, the EPL twice and even the Club World Cup and UEFA Super Cup.
If he is not underrated, then someone must do something about it. Adidas who sponsor the Egyptian born attacker have done just that by commemorating an Adidas boot for him. The boot is one of a kind and has been given to him to mark his 100th goal milestone for Liverpool.
The boots are an X Ghosted limited edition for him to wear on Liverpool's Wednesday night Champions League fixture against Ajax Amsterdam. They have the Egyptian flag on the side with the number '100' to represent the milestone.
This is not the first time the Liverpool attacker was honored. In 2018 when he received his award for being the Top goal scorer with 32 goals Adidas dedicated to him the X17 Deadly Strike boots which he wore throughout the season. The boots were even added to a collection at the British museum.
The winger has not let down on the field as he has already started to rack up the goals for this current campaign. He has scored 6 goals in the league after just 5 matches played. Liverpool will be relying on Salah to do what he does best in their group D match.
It is a matter of time before we see his name listed as one of the greatest attackers' football has seen.