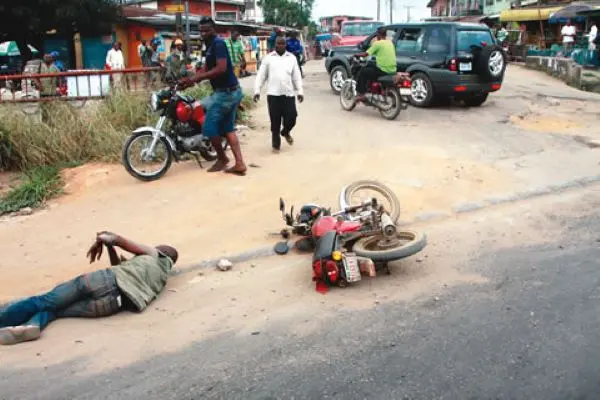 An accident involving a motorcycle and a cargo vehicle has on Wednesday, 21 October 2020 claimed the lives of two persons on the Abrepo-Barekese road in the Kumasi Metropolis of the Ashanti region.
The incident occurred when a cargo car with registration number GT 5539-N crashed with a motorbike with registration number M-19-AS.
According to eyewitnesses, the cargo vehicle was making a U-turn on the road intersection close to the Samad Hotel at Abrepo when the motorbike which was heading towards Bantama slammed into it.
Narrating the incident, an eyewitness told Class FM's Ashanti Regional Correspondent Elisha Adarkwah that: "The cargo was making a u-turn in the middle and the motor was also from the girls school en route to town and so he was speeding and he couldn't control the speed so he hit the driver's side and when it did, it threw them off. Instantly, the rider died, but the one sitting on back of the bike was still breathing but I can't tell if he's alive or not since they took him away. As for the other one, his helmet got broken and it affected his head as well so blood was oozing from his head so he died here.
The second victim, however, died at the hospital.
The bodies of the deceased have since been deposited at the Komfo Anokye Teaching Hospital (KATH).