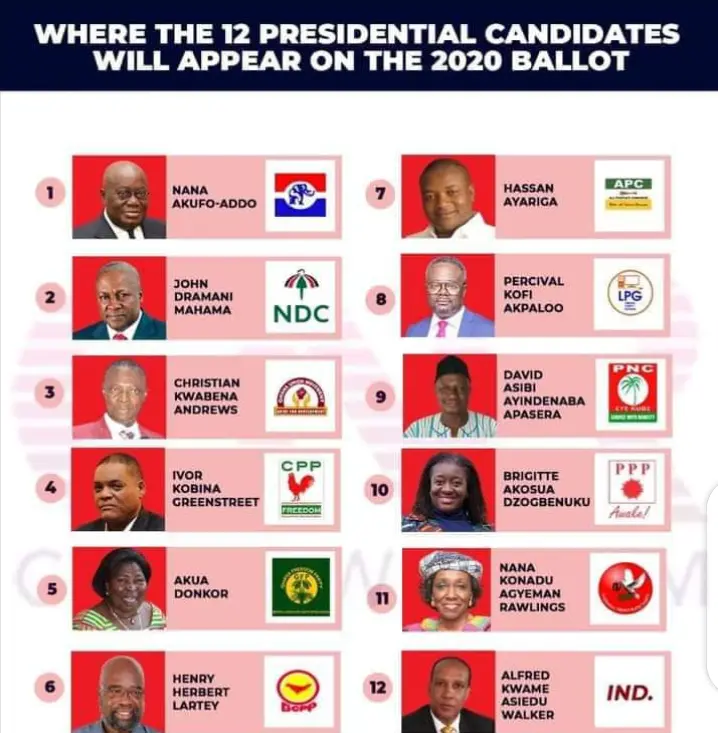 Renowned journalist on Angel TV and radio Kofi Adoma Nwanwanii has finally listed all the flagbearers and their positions as endorsed by the Electoral Commission of Ghana.
After posting the picture, Kofi Adoma Nwanwanii asked a big question that, per the arrangement on the ballot, can it reflect same in the final declaration ?
Like New Patriotic Party NPP's Nana Addo Dankwa Akufo Addo placing first, John Dramani Mahama placing second and the rest following.
This sparked a heated Debate on Facebook. Others explained that Current President Nana Addo Dankwa Akufo Addo could not win elections when he was placed number one on the ballot in a previous Election.
Others also explained that in the History of Ghana, President John Agyekum Kufuor was able to win Election with his bottom place on the ballot.
" No Kofi Adoma Nwanwanii, have you forgotten so soon that President John Agyekum Kufuor won with Ase3 got slogan"? One quizzed