– A Ghanaian top-flight celebrity dancer Incredible Zigi has been detained by police in East Legon
– The young talent indicated that he was stopped by the law enforcement agencies over his appearance and hairstyle
– He was seen in a video handcuffed to metal in town
– Incredible Zigi however added that he was later released after paying what he considered to be a bribe
Popular Ghanaian dancer and choreographer, Michael Amofa, known in the world of showbiz as Incredible Zigi, has shared a story of how he was arrested.
In a series of posts made by the dancer on IG, he indicated that he was arrested at East Legon and even handcuffed.
Even though he did not state how he was stopped and questioned, Incredible Zigi indicated that he was arrested because of his looks.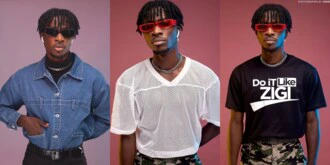 A video which is fast going viral on social media showed the dancer handcuffed to a burglar-proof as the police went about their night duties.
He recorded a video and claimed that he was even surprised as to why he would be arrested for looking and dressing in a certain way.
Incredible Zigi however revealed that he was later released and allowed to go home but he was made to pay something first.
The media would look into the matter and provide readers with fresh information as and when they come in.
Meanwhile, YOLO actor, Aaron Adatsi, and his beautiful fiancée, Eyram, have dropped stunning baby bump photos following the birth and subsequent naming ceremony for their son on October 17, 2020.
In photos sighted by the media , Aaron and his fiancée, Eyram, looked so excited to be welcoming their first child together.
The duo was seen in many poses dressed beautifully and smartly as they held hands and showed off the baby bump.
One of the baby bump photos saw Aaron seated while his fiancée, Eyram, stood by his side while she rested her arm on his shoulder.