– Reggie Rockstone has celebrated Shatta Wale
– Shatta Wale is a year older on Saturday, October 17, 2020
– Many celebrities have taken to social media to celebrate him
Veteran Ghanaian rapper, Reggie Rockstone, has shown maturity as he has celebrated Shatta Wale on his birthday
Saturday, October 17, 2020, happens to be the birthday of the dancehall sensational.
However, photos of Shatta Wale have flooded social media as his colleagues celebrities are celebrating him.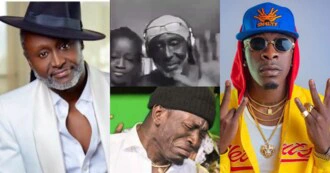 And Reggie Rockstone has joined the celebration as he has shown love to the Ayoo hitmaker despite not being on good terms with the latter
The respected rapper took to his official Instagram handle to release a photo of Shatta Wale.
Captioning the photo, he wrote, "HAPPY BORN DAY KING."
Social media users have joined Reggie Rockstone to wish Shatta Wale a happy birthday.May you be a gamechanger – Duncan Williams prays for Shatta Wale on his birthday; video drops
@adidja375: "Happy birthday king wale. Well done Reggie. You the best."
@sparkleamekuadzi: "Happy birthday to u my brother. Truly Knowledge is Power.may u live to b 97 3 minimum."
@nii_massup: "Happy birthday king Wale One love."
@kobbyy_: "Saap3p33p3… Senior mae."
@bra_heskey: "Panyin due mante mante ampa."https://www.instagram.com/p/CGbPlQSsgNc/embed/captioned/?cr=1&v=7&wp=1304&rd=https%3A%2F%2Fcdn-af.feednews.com&rp=%2Fnews%2Fdetail%2F4682e1b349a70a84eb2cbe0327089f5c-gh-en%3Ffeatures%3D2114057%26client%3Dmini%26uid%3Db1d86bda5f989a4b52d88e64e4d2eb2010074144%26like_count%3D0#%7B%22ci%22%3A0%2C%22os%22%3A807.8000000004977%7D
Shatta Wale in an interview blasted Sarkodie for releasing a diss song while the country is fighting the COVID-19 pandemic.
The dancehall sensation in the heat during the interview took on Reggie Rockstone.
Shatta Wale also branded Reggie Rockstone as an underachiever because after forcing to introduce the genre of music in Ghana, he has nothing tangible to show for in the last two decades