The rate at which some people are chasing after their respective ambition in life, leaving and forsake the first thing they should do, which is seeking first the kingdom of GOD, and it's righteousness so that every other things, which is wealth, riches, fame shall be added unto them. But some have deviated from this to go their own ways, but at the end of it all they will have nothing to show for their struggles.
Prayers is the Key to achieving success and your heart desires. Just as the bible said that we shall pray without seasons, for this is the only means where we can achieve our aims. Believe me that whatever that happens in the physical is being controlled in the spiritual. So as a Christian who believes in Christianity as a Religion, i will advise you to do pray always, for if there be a person who will pray, then there's a GOD who will answer.
Duncan Williams has taken to advise Christians in Ghana, to leave whatever thing they are engaged themselves in, and pray over GOD's open doors in their businesses, Families and in their life endeavors. If those men that practice fetish things can talk to their gods and it will answer them, then know it today That GOD is ever ready to answer you when you come to him prayers.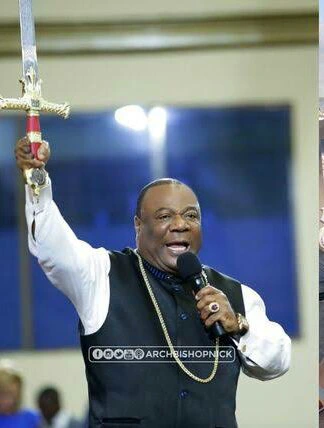 The cleric "Duncan Williams" pointed out some prayer points, that he strongly believes will turn everything around, for those that will believe in what GOD can do. Those that believe that GOD holds the key to greatness. And I was able to gather these Prayer points, as shown below. Just have Faith and claim the prayers by saying AMEN in the comment box. And share also across to your friends, so that they can also benefit from these prayers too.
1. I Prayer that every evil powers working against your finance, Occultic Alters, witches and wizards, powers of any deity working against your life, business shall fall down and die in JESUS name.
2. Every evil man or evil woman on Assignment against your life, I command them just as the word of GOD said that, we shall not suffer the witch to live, I come any man on assignment against your destiny and finance and business , catch fire right now and die in JESUS name.
3. Just as each morning, the sun sets up IMT sky, I decree and declare that your star shall shine like the morning sun, I decree that your hands shall rest on favourable things from today onwards, in JESUS name I Pray.
4. According to the word of GOD in Psalm 91, I prophecy that the Good LORD shall give his Angels, charge over you and your family to keep you in all your ways. They shall carry with their hands, to prevent you from hurting your feet on the stones in JESUS name.
5. According to the word of GOD in 2 Chronicles chapter 4vs10, just as Jabez prayed to you Oh GOD, to please enlarge his lands, bless him and keep him away from any evil that cause him harm, I decree and declare that the Good shall enlarge and enrich your land, Bless you beyond measures, and keep you from any harm that shall cause you pain, in the mighty name of JESUS.
6. Decree upon you life Child of GOD that, according to Psalm 23, that goodness and Mercy shall follow you and your family members, all the days of your life, and you shall dwell in the presence of the LORD for ever.
7. I decree and declare that this weekend, favour shall locate you, divine intervention from GOD shall rest upon you and your family. Your going out and coming shall be blessed. What others struggle to achieve and acquire in life, you shall get then at ease in JESUS name.
Have Faith and say this prayers, and commit AMEN on the comment box. And don't forget to share across, it will be nice if others benefit from this blessings.
Remain Blessed Child of GOD