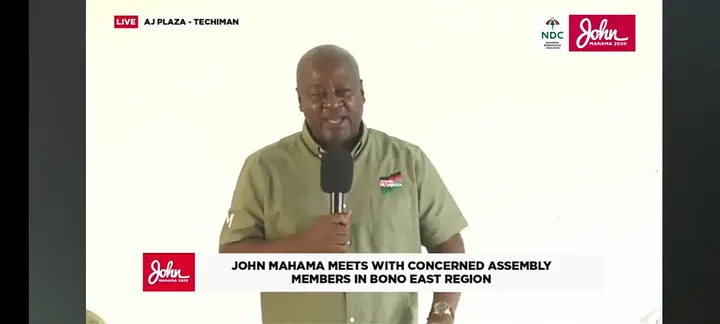 Former president John Mahama has taken his "On the Move" tour to Bono East Region and he finally met the assembly members st Bono regional capital Techiman
The meeting was with concerned assembly members in the Bono East Region.
The assembly members welcomed his concept that his promises he going to bring to them. They said they know he can pay them because he introduced the giving of assembly members motor bikes. "He can do it they" said.
At the meeting, the assembly members were very greatful for meeting former president John Mahama with the good dream he is had for them.
With much Joy in their hearts, they pledge they will pray for his second coming as president of the republic, for him to come and accomplished the promises he made to them.
They also pledge to support him by going into house to house in their various electoral areas to campaign for him to win the election.
After the assembly members eulogies John Mahama, they send a strong messages to him ahead of election 2020. They believe that John Mahama will win the election so he should stay with his Words as he stated in their party manifesto.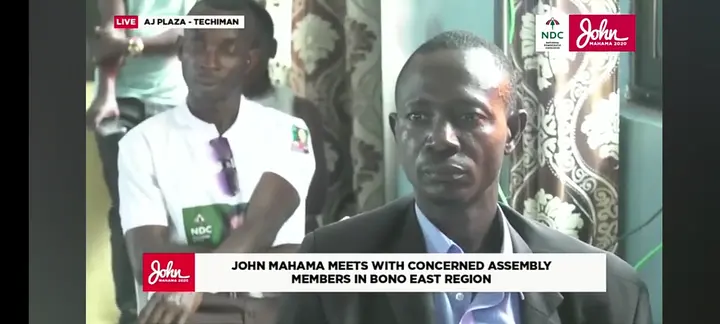 The as oliver twist ask for more so is them.
In the first place, their proposal to former president is that "when victory is assured, our allowances promised by you should come early in the first year of your government".
They please John to increased their ex gratia and take it "from IGF and put it into the GETFUND" for them. They lamented that the money giving at the end of their four years of service is too small for them to swallow.
One message they send to John Mahama was about the motor bikes the government is giving to them to work with. They lamented that the motor bikes is coming too late.They explained that in last administration of the assembly work, the motor bikes came in late for them hence those who took the motor bikes, some were not even in power anymore to use the motor bike to work for government.
They pleased former president John Mahama that in his first year of administration, he should provide the motor bikes for them to start work early.
Finally they welcome the idea of John Mahama and wish him good luck ahead of the election polls.
After that former president John Mahama made a statement that the current government has limited them that's why the motor bikes and some money needed into the assembly electoral areas were not coming.
But he assured them he will take of everything concerning assembly and themselves if God grant him the election poll ahead.