After images of Chelsea coach Frank Lampard smoking away on a cigarette emerged on social media, we take a look at nine other footballers, past and present, who enjoy a puff or two.
Footballers are known for their high levels of athleticism and maintaining a healthy lifestyle, however ever now and then they veer from the expectations placed upon them.
Smoking it appears, is a common practice with footballers around the world
Over the years, countless players have been spotted with a cigarette in their mouths away from the playing field.
The likes of Zidane, Ashley Cole and Dimitar Berbatov have all enjoyed fruitful careers despite their penchant for tobacco.
Footballers have a strenuous schedule in their careers, often playing three matches in a week. This has created a general perception that footballers live a healthy lifestyle without indulging in any vices. This though is not true and many top footballers have been caught indulging in the most dangerous vice of all; smoking.
Wesley Sneijder
Sneijder for a brief period in 2010 was arguably the best footballer on the planet, being at his influential best for Inter Milan and Netherlands. His career has been in decline since then and some have attributed it to his smoking habit.
Ashley Cole
Ashley Cole is regarded as the finest left-back of his generation but has had his fair share of controversies. Being snapped smoking often is one of them.
Dimitar Berbatov
One of the most elegant strikers in recent memories, Dimitar Berbabtov is an avid smoker. He has also admitted to smoking just to look cool. When you have the swagger like Dimitar, we guess one could also pull the smoking look off!
Jack Wilshere
Jack Wilshere has often been the target of English media, unfairly so. One such occasion was when some tabloids reported that his smoking habit was the reason for his various injuries.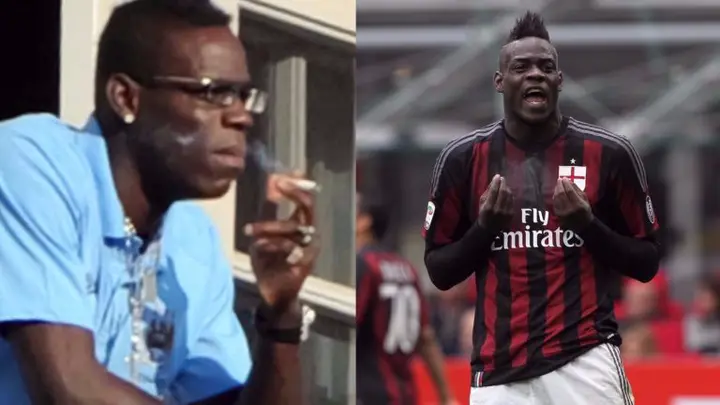 Mario Balotelli
The Sicilian psychopath has done it all. Scored outrageous goals. Been sent off for fighting opponents, referees and sometimes his own managers. Set off fireworks in his own toilet. Meanwhile, he also loves a smoke once in a while.
Wayne Rooney
Another one of controversy's favourite child. The former England and Manchester United captain has endured phases as a youngsters when he was into grannies and threesomes. He has also endured a steady decline in his playing career for the past few years. Some have attributed this to his unhealthy lifestyle, with one of its traits being smoking.
Lionel Messi
Perhaps the most surprising name on the list, the best footballer on the planet stirred up a big scandal when he was pictured lighting up a smoke during his vacations. Whether it was a one off or a regular habit is still unknown.