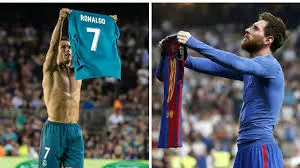 Footballers' goal celebrations come in all shapes, meaning that while some players have one signature celebration, others come up with new celebrations once in a while.
Finding the back of the net can be an extraordinary experience for any player, so the players often express themselves by performing various celebrations, which can go from tears to just a regular walk up the pitch.
Some footballers might even plan or rehearse celebrations with their teammates, while in certain memorable circumstances, a spur-of-the-moment celebration might become iconic due to its timing, humor, or individualism.
Football is a team sport full of passion. The greatest attraction of it is scoring a goal. Every successful score comes from the perfect cooperation of the whole team and the goalscorers also take pride in their own individual performance.
Several regular goalscorers opt for a trademark celebration of their own. Some open their arms to run around the football field while some kiss the fingers or team logo; some perform flip and others prefer to celebrate with all teammates, so when it comes to celebrating a goal, there is a huge diversity.
The followings are some of the famous goal celebrations of top soccer players:
Most of the top players have revealed the inspiration behind their creative, unique goal celebrations.
Lionel Messi
The Portugal international has deployed an array of celebrations over the years, but this one in particular has come to define his goalscoring signatures.
Pointing skywards
Almost every time Messi
scores, he points a finger on each hand towards the sky as he makes his way back to the center-circle to prepare for the game to restart.
Regardless of whether he celebrates his goal with another gesture or symbolic act, Messi tends to repeat his most oftern recognizable celebration.
It has been reported that Celia Olivera Cuccittini is the person to whom each and every one of those goals is dedicated: Messi's grandmother, who passed away in 1998.
It was she who encouraged Leo to play, took him to matches and thus played a huge role in shaping the path of the greatest footballer of all time.
Messi spoke of the celebration at a UNICEF convention, "I think about her a lot, I would have loved that she was here in the stadium, watching me, enjoying it. She gave us everything, myself and my cousins would fight to sleep in her house, she cared for all of us.
"I can't say something in particular, it was everything about her, her character, how she treated us, and how she loved us.
"I dedicate my goals and my triumphs to her, I want her to be here but she left us before she could see me succeed. I would have brought her to Barcelona," Messi added.
Perhaps all Barcelona
and Messi fans should be thankful to the late Sra. Cuccittini.
According to Messi's biography written by Luca Caioli, his grandmother brought him to his first football game.
The coach in Rosario, Messi's hometown in Argentina, was reluctant to play him as a youngster due to his small stature, but Messi's grandmother insisted that the boy should receive a run-out.
"Put him on and you'll see how well the little boy plays," Messi's grandmother told the coach, who replied: "OK, but I'm putting him near the touchline so that when he cries you can take him off yourself," and the rest is history.
Thumb Suck
Messi usually brings out an alternative celebration before the sky-pointing commences, marking a particularly special strike or momentous occasion with its own image.
The Argentinian is the family man; he now has three sons. The second one's birth coincided with a fixture against Atletico Madrid and, with Messi typically finding the scoresheet, a familiar celebration in the football world to signify a newborn baby was seen, thumb-sucking.
His second-half appearance helped Barca overturn a 1-0 deficit to win 2-1 at the Vicente Calderon, with manager Luis Enrique stating "Messi was decisive, as he always is!"
Of course, that early-season result aided Barcelona's title quest as they ran out La Liga winners by a single point the last term, with Messi netting 26 times in total. But perhaps that single strike at Atleti, coming when it did, meant just a little more to the No. 10.
'Call me' goal celebration
Messi, the unstoppable talisman scored a brace, set up two more and helped Barca to a 5-0 victory, keeping up the pressure on Real Madrid in 2017.
After his first goal to Real Madrid, a tremendous solo goal that left several defenders tackling thin air and gave the goalkeeper no chance with the shot, Messi celebrated with his teammates and then pointed to the stands, made a 'phone call' gesture with his hand to his ear and had something of a serious look about him.
Most of the social media suggestions declared it was towards the board, perhaps to speed up contract talks, but soon afterward it was revealed to be aimed the way of his nephew instead.
Messi had apparently dedicated the goal to his nephew who spent the afternoon calling him. He rang him all afternoon, which was very annoying. That was reiterated by Messi in the celebration."
Celebrating with teammates
The first notable image of Barca players celebrating a goal together came at the Camp Nou in 2015, with Barca beating Atletico Madrid
.
Messi hit the third and the troika ran off in tandem, celebrating a hard-fought three points, leading to pictures from all angles and distances of the above scene.
Later, Barcelona superstar Messi changed the celebration game forever. The Argentine magician turned in one of his greatest ever El Clasico performances in 2017 as Barca scored a priceless 3-2 victory over Real Madrid.
It was a win that blew the La Liga title race wide open that season and victory was earned in the sweetest possible way for the Blaugrana.
Messi scored all three points with a dramatic late winner and proceeded to deliver one of the most iconic goal celebrations ever seen on a football pitch.
With Madridistas around the stadium in disbelief, Messi proceeded to take off his jersey and hold it aloft for the small section of Barca fans to see.
Messi's non-celebration
Messi isn't always happy at finding the back of the net, however.
There are times when, for whatever reason, the professional anger boils too closely to the surface to let any elation shine through even at the most blissful moments.
So, Messi has just had a regular walk up the pitch after scoring a goal.
Cristiano Ronaldo
One of the most famous football celebrations is known to be for Ronaldo
, who jogs towards the edge of the pitch, jumps, spins 180° while in the air, and flails his arms out by his sides while landing. Usually, this is accompanied by shouting 'Sí!' (Spanish for "yes").
All fans have seen it plenty of times. It's even made it on to Fifa, but what exactly does it actually mean?
It doesn't have much meaning behind it other than "Here I am, look at me". The accompanying yell Ronaldo lets out as part of the celebration, however, does have a bit of a story to it.
After winning the Ballon d'Or in 2015, Ronaldo famously let out a similar cry before embarking on his acceptance speech, much to the amusement of those watching.
Later asked about it, he explained he would use the cry to celebrate his goals or important victories with Real Madrid
teammates.
"The scream? The players know I always do that shout when I score a goal or when we win," once he told reporters.
"It's our team shout, from Real Madrid," he continued.
A Spanish newspaper explained the "Sí" celebration was invented by Real Madrid players at some point in 2011.
Although it isn't known if Ronaldo was the man to start it, it was originally used by some Real stars to celebrate goals in training sessions.
This developed so that the team that won training ground matches would repeat the cry at the end of the session. In time, Ronaldo made it his own and a big part of his most-replicated goal celebration.
The Portugal international has deployed an array of celebrations over the years, but this one in particular has come to define his goalscoring signatures.
To have a brief chronological review of Ronaldo's goal celebrations, it should be mentioned that he used to go shirtless after scoring a goal and sometimes he raised his arm, pointing to the stands.
As Ronaldo became surer of his self-worth, his celebrations became correspondingly more noticeable
Antoine Griezmann
has celebrated all but his first strike, in the group stage victory over Albania, with a quirky dance and has explained where the inspiration came from.
"The celebration is a dance from Drake's music video 'Hotline Bling'," the Barcelona forward said.
The Frenchman would hold out his arms in such a manner as if he was imitating a salsa pose. He would then proceed to dance around and wring his hands, mimicking the dance.
Antoine Griezmann's latest celebration was the 'L' which he started since the World Cup. This move was actually popularized by the online videogame, Fortnite.
The L, also known as the 'Loser' was normally displayed as one of the victory dances/poses in that game.
The move involves swinging your legs side-to-side while holding one arm at head height and making the letter 'L' with the index finger and the thumb.
The game is a big hit with footballers, with plenty of the England squad known to be big fans.
However, it did cause some controversy for poor old Griezmann. The Frenchman was accused of disrespecting Croatia after celebrating his goal with a 'Take the L' during the World Cup final.
Another popular goal celebration of Griezmann was the salsa dance. In fact, Griezmann's celebrations are among the funniest goal celebrations of all time.
Luis Suarez
Another best goal celebration belongs to Suarez
, the man of the family. Suarez kisses his wrist and then three fingers after scoring each and every single goal. He recently revealed that the celebration is actually a tribute to his family.
He has a tattoo on his wrist that reads 'Delfina', which is the name of Saurez's eldest daughter and an anagram of the word 'Anfield'.
Suarez said to reporters, "I didn't know her name was an anagram of Anfield but my wife told me that people here in Liverpool say that when I kiss my wrist, I'm doing it because I have 'Anfield' on there.
"It's a total coincidence but a very nice one at the same time. Maybe there was fate."
As his trademark celebration, he kisses his ring finger as a nod to his wife Sofia, before kissing the tattoo and finally he completes the celebration by kissing three of his fingers to signify his wife and two kids.
Neymar
controversially mimicked Erling Haland
's 'zen' celebration during PSG
's clash with Dortmund.
He decided to go one step further by copying Haland's 'zen' celebration, momentarily sitting on the floor with his eyes clasped shut in momentary meditation.
Neymar and the PSG squad took aim the young striker following their triumph over Borussia Dortmund in the Champions League after incorrectly believing Haland had declared Paris was 'his city.
The fake picture riled Neymar and the forward mocked Haland by copying his now famous 'zen' celebration. PSG stars did the pose during and after the game and were heavily criticized for making fun of the teenage forward.
"No, not really," Haland said when asked if he was upset by the mocking. "I think they helped me a lot to get meditation out in the world and to show the whole world that meditation is an important thing so I'm thankful that they helped me with that."
Neymar once celebrated with the action of To the World after scoring a goal. This action comes from Usain Bolt, a Jamaican athlete.
Kilian Mbappe
admitted that he stole the crossed arms look from his brother, Ethan, who did it after scoring a goal playing FIFA.
"He scored a goal and celebrated by crossing his arms," he said, as revealed in a new unauthorized biography, Mbappe.
"Five minutes later, he stopped and said 'Kylian, you could do that in a match.' So I did it."
"So it happened in Dortmund and I did it. He was happy. I told him: 'Now I've stolen it, it's mine!'"
Moreover, the Paris Saint-Germain striker scored a brace to push Paris Saint-Germain's lead to 4-0 before halftime against Olympique de Marseille and celebrated by mocking crying.
Known for his hands-under-arms goal celebration, Mbappé changed things up against Marseille and "cried like a baby" after scoring against Marseille.
Later, it was found that the funny crying celebration was an inside joke between Mbappé and two of his friends.
Paulo Dybala
always celebrates scoring a goal by covering his mouth with his hand while his index finger pointing in one direction and his thumb pointing in the other under his nose.
The Juventus forward started to use the trademark celebration a few years ago. He revealed that the action originates from the film Gladiator.
"I missed a penalty and was really upset afterward. I went on holiday and was watching Gladiator on TV and that's when I decided that, my next goal, to celebrate as a gladiator.
"When we struggle, sometimes we must wear our warrior mask to be stronger, without losing our smile and kindness," he said to reporters.
Cristiano Ronaldo celebrated one of his goals by using Dybala's classic "Mask" while the Argentinean had been left out of Juventus' XI by Max Allegri.
Ronaldo apparently wanted to show his support for his teammate and Dybala appreciated his teammate's gesture by posting his picture on Instagram.