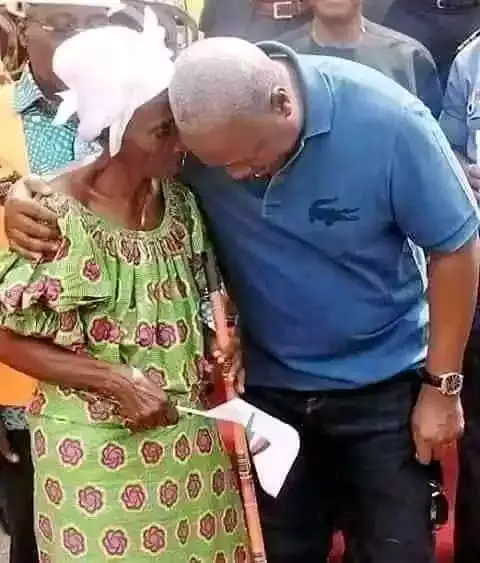 "Who Jah bless, no one curse". The love for John Mahama everywhere he goes is unbelievable. This is obviously sending fears among the ruling New Patriotic Party. From the North to the South, from the remotest villages to the the busiest cities, he is met with multitude of people, singing and chanting for change and his comeback.
Both the old and young are defying natural and artificial protocols to catch a glance at him everywhere he goes. This is a clear sign of victory for the John and Jane ticket. Everyone can feel the wind of change including an an enthusiastic old womwn in the Upper West Region.
This lovely Grandma believed to be in her 80s could not hide her joy upon seeing John Mahama. One by one, she trek through the crowd to meet her son and political idol. When she finally got close to him, she requested his audience.
As expected, the ever loving John Mahama said yes to her and this is what she had for him:
"The Lord is with you, I saw your victory coming in my dream. Stay strong", she said.
This is indeed pure love at play. Indeed "who Jah bless, no one curse". John and Jane on the rise.