The laptop of tomorrow! Take your creativity and productivity to the next level with the groundbreaking ASUS ZenBook Pro Duo! Designed to give you the ultimate edge in workflow efficiency, the powerful RTX Studio Laptop features a full-width 4K ASUS ScreenPad Plus that works seamlessly with the main 4K UHD OLED display. It's never been this easy to harness your full creative power.
PERFORMANCE: The portable powerZenBook Pro Duo is powered by :
1. up to a 9th Generation Intel® Core™ i9 eight-core processor
2. the latest gaming-grade NVIDIA® GeForce RTX™ 2060 graphics and blisteringly fast storage. This ultrapowerful combination ensures that ZenBook Pro Duo takes professional-quality tasks in its stride, such as multi-layer photo or video editing, 3D graphics rendering or even game live-streaming.
3. Windows 10 Pro
4. Up to Core™i9, 9th Gen Intel® 8-core processor GeForceRTX™2060gaming-grade graphics
5. Up to 1TB PCIe® x4 SSD
6. Up to 32GB DDR4 2666MHz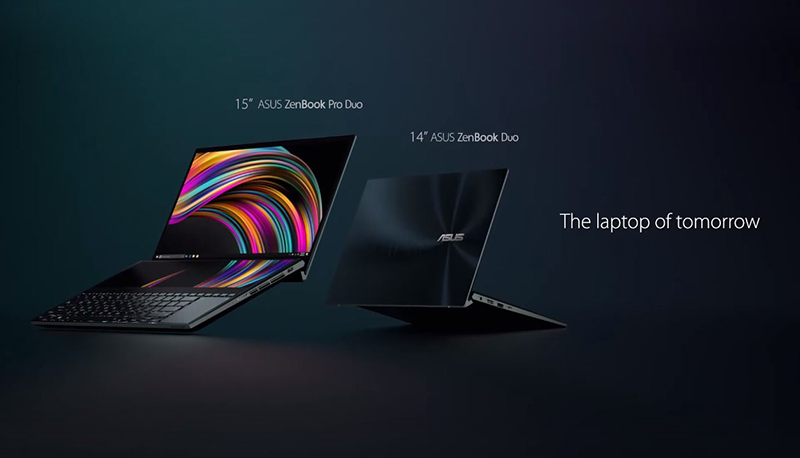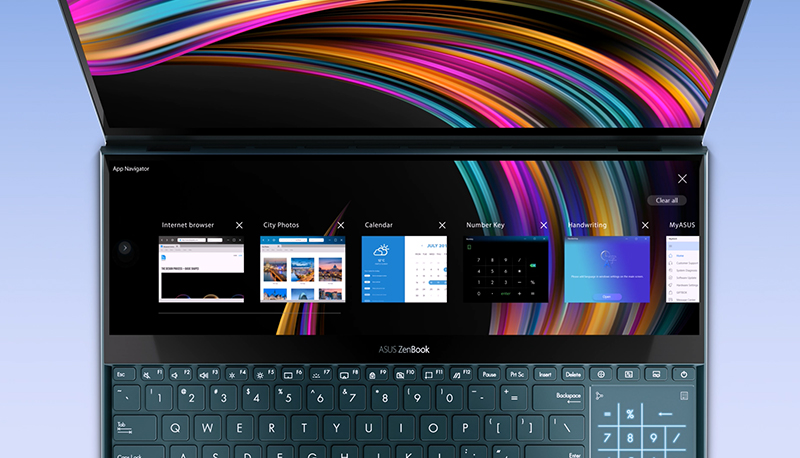 Here are some of the killer features this laptop comes with:
App Switcher
Add
ViewMax
Organizer
Task Swap
Task Group
App Navigator
Handwriting
Drag an app onto the App Switcher icon to launch the app on ScreenPad Plus.Drag an app window onto the add icon, or directly drag the app onto the ScreenPad Plus launcher for easy access. Maximize your viewing experience by dragging an app onto the ViewMax icon to view it on the main display and ScreenPad Plus. Drag apps to ScreenPad Plus and let the Organizer function sort them into three blocks.Switch the position of the open apps on the main display and ScreenPad Plus by tapping the Task Swap icon or pressing the Task Swap hotkey.Customize app groups and use the Task Group icon to open multiple apps with one tap.Tap the App Navigator icon to view all open apps on ScreenPad Plus.With Handwriting you can take notes and record your thoughts or ideas the natural way.
Photographer
Programmer
Video editor
Music artist
3D animator
Game streamer
Click here to watch the official video Asus ZenBook pro duo
Put tools, references and source files on ScreenPad Plus for the ultimate editing interface.
* Software depicted is Corel Painter 2019. Enjoy an enlarged visual workspace for your code, previews and other programming content.Scroll through your video timeline on ScreenPad Plus, with plenty of extra room for your pro tools.
* Software depicted is Corel VideoStudio 2019. Record, mix and master on ScreenPad Plus, with more space for track controls. Check your scripts on ScreenPad Plus while enjoying smooth 3D rendering on the main display. Drag your live-streaming windows onto ScreenPad Plus without interrupting the main game display.SCREENPAD PLUS Perfect ergonomics, for stylus or keyboardWith ZenBook Pro Duo and the bundled stylus — or your favorite active stylus — you can really let your creativity flow. Both multitouch displays support stylus input, but ScreenPad Plus gives you a superbly ergonomic and stable platform for writing or drawing. Take notes, sketch out your ideas, or do precision graphical editing in the most intuitive way ever. There's also a separate palm rest in the box, which enhances the ErgoLift tilting keyboard design to give you the most comfortable typing experience ever.SCREENPAD PLUS Endless possibilitiesScreenPad Plus gives you effortless app multitasking, so ASUS works closely with third-party developers — including professional video-editing software developer Corel, with more to come — to optimize ScreenPad Plus for the ultimate productivity. ScreenPad Plus is your gateway to endless possibilities.* Software depicted is Corel MultiCam and Spotify
Price range is between $2,200.00 and $3,000.00
Click here to read my previous post: Previous post by Haleem Karmil