Bishop Daniel Kwadwo Obinim has sent a good message to the former president John Dramani Mahama who is the flag bearer of the National Democratic Congress(NDC).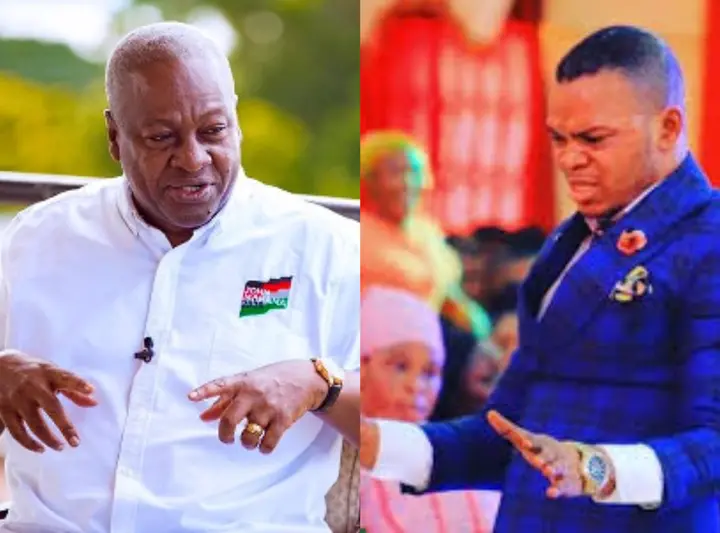 Just recently there has being an interesting biff between two Ghanaian Female celebrities Mzbel the music godess and her good friend Tracey Boakye fighting over an alleged sugar daddy. Which has brought up the social media name 'PAPA NO'meaning that man.
Hon. Kennedy Agyapong on the other has added more salt to the injury by coming out with some revelations about the issue. He revealed how John Mahama the alleged 'PAPA No' bought a multi-million house and a restaurant for Tracy Boakye.
Speaking on OB TV Bishop Daniel Obinim stated that he has a good news for for Former President Mahama.
According him the success of every great man comes with a price to pay." Every great man who have come on earth payed a price . David, Daniel, Moses and all the great men in the Bible including my father Jesus Christ paid a price before they became great" he stated.
"I have also being suffered from Ghanaians about this same issue that Mahama is passing through now, but I belive God at his own time manifest himself great. I know and believe that God is taking Mahama through this to teach him a lesson of his time and at the end he will vindicate him" he added.
" I will advice John Mahama that he should never come out to respond to all of these rumors moving in the waves about him. He should still keep mute as he has done and leave Ghanaians to say what ever they want to and it will result in his success. he stated.
He finally advised Ghanaians to be careful about how they respond to issues concerning leaders of the state.